Stay Safe. Stay Connected. 
Resources for our community.
The library may be closed, but you can still get your
next great read via our ZipBooks program! 
Through the program, you may request ANY BOOK or AUDIOBOOK currently available for purchase for $50 or less on Amazon and have it shipped directly to your home. There is no checkout or due date, simply return any items when the library reopens. This service is completely FREE!
Patrons are now able to have up to FIVE (5) items at once and may request up to 2 additional copies of any current bestsellers or other items already in our collection.
For more information, and to place a ZipBook request, visit http://blanchardlibrary.org/zipbooks/
Stay safe and access the library from home. 
The library has a wide variety of ebooks and digital audiobooks that can be accessed remotely through OverDrive, as well as streaming movies, television shows, and more through Hoopla. Digital magazines may be accessed through RB Digital.
Assistance using these applications can be found on the Black Gold website. Alternatively, library staff are available in a limited capacity to assist with setting these applications up on various devices via email at info@blanchardlibrary.org or by calling (805) 525-3615.
We are now able to offer increased access to
digital materials via Hoopla's Bonus Borrows Collection!
In order to provide more content to patrons during this difficult time of sheltering at home, Hoopla Digital has curated the Hoopla Bonus Borrows Collection. This list of more than 1,000 top titles are available completely FREE and do NOT count against your monthly Hoopla checkouts.
In addition to these titles, patrons will also continue to have access to hoopla's full collection of over 750,000 eBooks, audiobooks, movies, TV shows, music, comics, and more! The Bonus Borrows Collection is available through 4/30/20.
Haven't set up a Hoopla account yet? Just login here with your library card!
The Community Information you need, all in one place. 
The VC Human Services Agency has compiled a bilingual list of local and online resources to support the community during coronavirus available here.
These resources include basic needs, employment interruption support, support for seniors, mental health, educational activities, and stories, projects and more, as well as how to talk about coronavirus with kids and teens to help with fear and anxiety.
No WiFi? No problem!
Though our doors are closed, our WiFi network remains OPEN. Our recently upgraded access points are able to provide WiFi access within our parking lot. No passwords or library card needed.
Patrons are welcome to use our network from 8:00 AM to 8:00 PM seven days a week while the library is closed.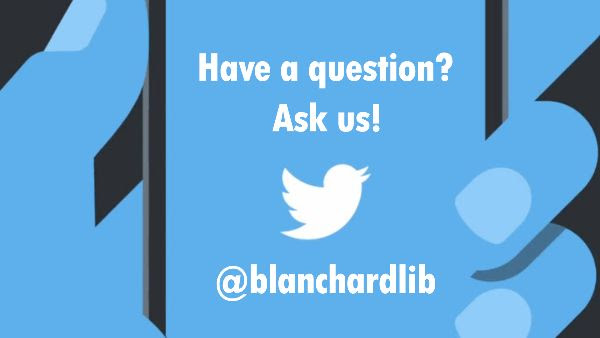 Have a question? Ask us anytime!
It's no secret that our librarians love helping people finding the answers they seek, but did you know and our virtual reference desk is still available for assistance?
Feel free to ask us anything at @blanchardlib on Twitter, or use the hashtag #askblanchard.